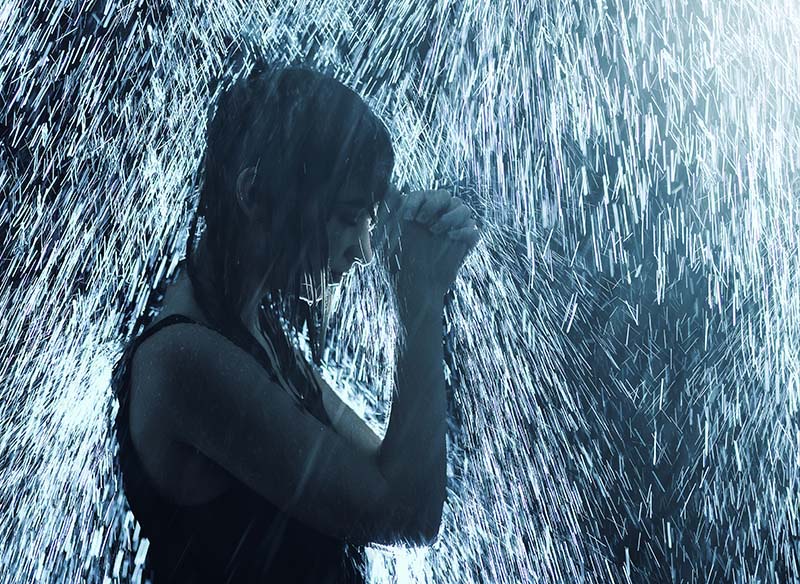 It was early in September of 1979 when Hurricane David swept through Dade County, Florida. I was only six years old and remember only a few things about the devastation of this major, deadly hurricane. My childhood memories center around time spent with my parents and grandma huddled in the living room of our comfortable 3-bedroom home. We took a mattress and placed it on the avocado green shag carpet and took turns peering out of the small eyehole in the plywood that covered our large picture window. My parents both worked hard, toiling to create a successful business so that they could own their own piece of the "American Dream," which, as a child, I knew nothing about. All I knew was that Hurricane David was holding my farmer father hostage to bite his nails worrying about his fields outside being covered by rain while he was inside playing Monopoly with his kids. There was no power, and the living room loomed dark while thunder and lightning raged in the storm outside. My 5-year-old child's mind didn't worry about my father's fields and the money invested in his crops flooding out into the streets. I knew nothing of the thousands of people who had died in the storm when it raged through the Dominican Republic only days before. I was drunk on the precious attention lavished on me by the people who mattered most in the world to me. I also knew, probably instinctively, that if I was with my parents, I would be okay no matter what. Even at that young age, I somehow understood that while bad things could happen, I would be safe if I was with my parents.
It is now early September 2017, and I am 43 years old. I have three children who are eagerly anticipating "hunkering down" with their family during Hurricane Irma. As we prepare our supplies and board up our home, their conversation centers around what games we will play, and who gets the cool lantern that has three different light settings. They have planned out each activity of this event, with absolutely no fear for their own safety. In their little kid minds, they believe that as long as they are with me, everything is going to be fine. My children are wise enough to understand that bad things happen. All three have seen illness, pain, and stress in their short lives. But, in much the same way as I did in 1979, they trust that as long as I am there, they are safe no matter what.
My children know that I am not all-powerful, and certainly not able to shield them from all harm. Yet, they still maintain this calm faith that perplexes me. I have been through terrible storms, including Hurricane Andrew in 1992, and I cannot help but feel stress, anxiety, and exhaustion as this frightening storm approaches. Yet, I am reminded again of my children's faith, and I realize that I must be more like them. Jesus said,
"Truly I tell you, unless you change and become like little children, you will never enter the kingdom of heaven." Matthew 18:3
Perhaps I need to learn from my children and realize that my Heavenly Father is always with me. No matter what storm, trial, or heartaches arise, if He is with us, then we are going to be okay. No matter how much I worry, no matter how little or how great my fear is, that hurricane is coming just the same. If it passes by my house this time, or comes right for us, I know that as long as I am with my Heavenly Father, I am going to be safe. I remind myself of this assurance,
"For I am convinced that neither death nor life, neither angels nor demons, neither the present nor the future, nor any powers, neither height nor depth, nor anything else in all creation, will be able to separate us from the love of God that is in Christ Jesus our Lord." Romans 8:38-39
When I remind myself of God's assurances for me, I realize that while my life will not always be easy, and while I have no guarantee of safety, I do have a guarantee of eternal life with Him. I have the promise that my soul remains His for eternity, and that this life, the one here on earth that is often plagued with worries, pain, and trauma, is only a mere speck of time compared to the eternity that I look forward to in heaven. Like a child who is comforted by the presence of her father, I am at peace knowing that my Father knows what is best for me, and no matter what, He will be there in the storm with me.
Meanwhile, the boat was far out to sea when the wind came up against them and they were battered by the waves. At about four o'clock in the morning, Jesus came toward them walking on the water. They were scared out of their wits. "A ghost!" they said, crying out in terror. But Jesus was quick to comfort them. "Courage, it's me. Don't be afraid." Peter, suddenly bold, said, "Master, if it's really you, call me to come to you on the water." He said, "Come ahead." Jumping out of the boat, Peter walked on the water to Jesus. But when he looked down at the waves churning beneath his feet, he lost his nerve and started to sink. He cried, "Master, save me!" Jesus didn't hesitate. He reached down and grabbed his hand. Then he said, "Faint-heart, what got into you?" The two of them climbed into the boat, and the wind died down. The disciples in the boat, having watched the whole thing, worshiped Jesus, saying, "This is it! You are God's Son for sure!" Matthew 14:24-33