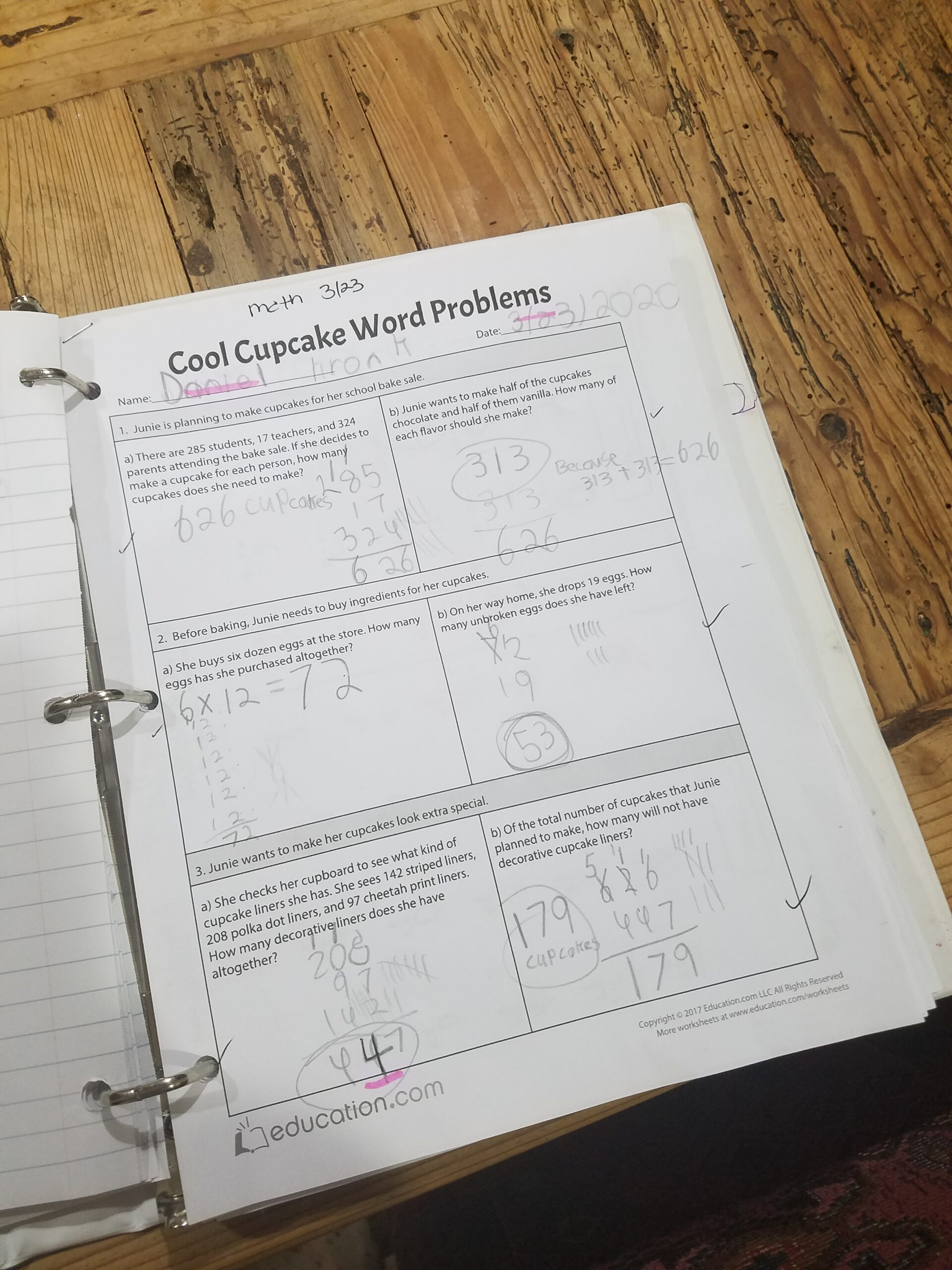 The Screen-Free Quarantine – Day 7
Wow! What a BUSY day!
Today was the first "official" day of "home schooling." I never in my life desired to home school my kids. I'll just say that right now.
I did a few intelligent things today, surrounded mostly by unintelligent acts of survival, but whatever. We're hunkered down, in social isolation mode, so anything goes, right?
I woke up at 5:30 am, which sounds not-so-bright, but really, it was the smartest thing I did all day. I was able to read my Bible in peace and quiet, drink my coffee, and sit in my prayer room. After that, I got a bit of work done before the natives woke up.
Kasie woke up first. She has a 9 am class (online now), so she was up at around 8:15 am. I got her breakfast and spoke to her for a bit, and then she headed back upstairs for several hours of lectures. The boys came down after, and were happy to have breakfast, cereal today…no hand shredded hashbrowns on a school and work day!
They were very upset when I handed them their notebooks with assignments for the day, oddly enough, my straight A student complained more than the other child, who could get straight A's, but who likes to socialize more.
They worked in earnest for a few hours, taking breaks every now and then. We stopped by the elementary school a few miles from our house and picked up free lunch and breakfast, which the kids had devoured before dinner (except for the broccoli, of course). The lady was supposed to put the food on a table after I show her a hand signal for how many kids I have. Then I was supposed to walk to the table (there was nobody else there) and pick up the food. Instead, she handed it into my open window.
I will pick up the free food tomorrow because it sure helps me with groceries. They are super expensive right now, and any little bit helps. But I will just pop my trunk and point to the back. No passing your hands through the car window, please!
Our library is closed! I thought I could go into the library with a mask and gloves and pick up some books for the kids. Then when I get them home, they could sit in the garage for 5 days for the germs to die, and then I could wipe them down as well. But, I guess that plan useless because the library is CLOSED! Not sure how to handle that. We LOVE our library card. The kids think that the library is where they can shop for free! We will miss it. I think I'll add it to the chalk wall in the laundry room. First place we'll go when this is all over? The library!
Other than that, we didn't do much all day. I worked very hard, but didn't get much done. Lots of questions about school from the kiddos. At one point, I had worked most of the day on a spreadsheet for work. I went to email it to my boss and didn't SAVE it! I lost more than a few hours of work on that, and a little bit of my sanity. Everyone knew to be nice to me after that.
Mike finished a bit early and took the boys outside to play badmitton. We bought lighted birdies and the kids are dying to play at night.
Jacob picked up some wire cutters from my dad's tools and fixed the garage door opener for me. That was awesome, and Daniel did some laundry.
I cooked dinner early because Mike and I really wanted to get to bed at a decent hour. We're both starting to feel tired from this routine. We had burgers and fries and the leftover school broccoli.
After dinner, we had a stuffie show. Mike and I will occasionally put on these shows when the kids are really good. Bobby Bear and Betty Bear got married a while back and now they have EIGHT kids! They are under quarantine and must work from home and manage the kids at the same time. The boys were laughing so hard!
After the stuffie show, we began what will be referred to in history as The Screen-Free Quaranting Jenga Championship! I told the kids that we will play each other every night that they stay on routine and get their work done. And whoever wins the most times gets A CROWN and A DESSERT OF THEIR CHOICE! As you may have guessed, the competition is stiff! Mike and I played against each other (we draw opponents out of a hat) and guess who won? Then Jacob played me and he won. I will keep you all posted on who turns out to be the champion.
Living out here in the woods, I'm starting to feel like I'm in a bubble. The days are so busy, I don't really know what's going on in the news. I tried to listen to the Governor's press conference, but I had to stop it when kids were asking questions. I'm sure someone will let me know when it's time to come out of quarantine.