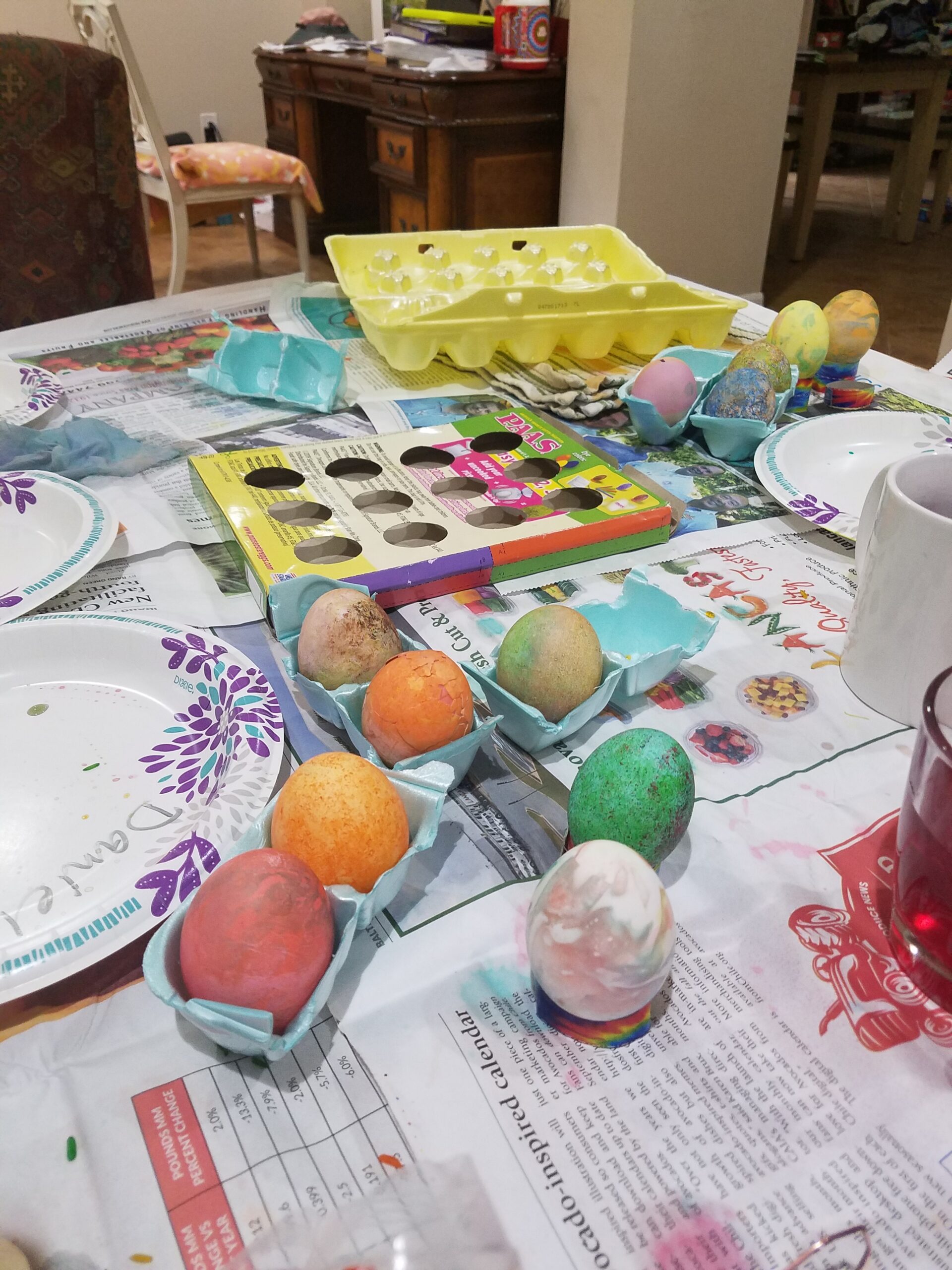 The Screen-Free Quarantine – Day 25-27
I can't even remember how many weekends we've done so far, but they are nice, although completely different from the weekends before Coronavirus. My boys used to spend every other weekend with their father, giving Mike and I a much-needed break. Kasie spent most of her time with her father, they both almost always have places to go and people to see (they are social butterflies), and I would see her on Sunday to help edit papers and take her back to the dorm for the week.
Since Coronavirus, everyone is here and everyone stays home. And it was Easter. So the expectations were set high. The kids envisioned Easter baskets of the past, filled with candy, bubbles, sidewalk chalk and toys. I also envisioned the same Easter baskets. I prepared early in the week to buy things for those baskets without risking our safety by stepping into stores.
If the threat of getting Coronavirus and passing it on to my family wasn't motivation enough to keep me away from the grocery store or Walmart, this article, was. My daughter has Turner Syndrome, so she is an individual at risk. Something we felt instinctively but didn't have documentation to back up our feelings.
So, I ordered Easter things on Amazon. Delayed. I tried to get a Shipt delivery scheduled. Nothing available. I checked 2 or 3 times a day, still nothing. Great. I was successful in scheduling a Walmart Curbside pickup order. Awesome! I updated my cart to include Easter items. As I prepared to head into town to pick up my $300 order, filled with necessities like milk, eggs, vegetables and fruit, I received notification that it was canceled due to high demand. Not "some" items unavailable, but "sorry, you cannot come here because we are too busy for you."
So, our Easter was just a little bit different. I anticipated Easter supply issues and was able to get a few things. Egg dye for our Easter Eggs, but of course, we had no eggs. My mom saved the day and delivered us 18 little white gems on Saturday. She dropped them off in our driveway and left. Thank God, for Grandma!
I also had some plastic eggs (and Grandma added to the collection), so we were able to throw some change into them to add to the fun. But the coloring books and sweet treats I had placed in my shopping cart were not there to add to the empty baskets. Still, when the kids woke up on Easter Sunday, Mike and I were ready for them. We had gone out into the woods and hidden their eggs on separate trails. We made the boys eggs super hard to find, and Kasie's were a little easier, but don't tell her.
Kasie was upset because she wanted a "free for all." She also woke up missing the traditional Easters of the past. Her father and I always shared holidays, me having the mornings and him having the later parts. So, she would have two Easter egg hunts, two baskets, two celebrations. Two parents. Poor girl. I overheard her telling the boys, "My Dad is all but dead to me right now."
She misses him so much; it breaks my heart for both of them.
The boys also miss their father, who went to Missouri without them. And I guess things are very different in Missouri. There are less cases and more wide-open spaces. And at their father's house, there are three grown ups to one kid. So, there was LOTS of candy, and a massive amount of eggs. So, when my kids spoke to their grandma there, and their father, they were upset. Why does their stepbrother get to have all the fun? Why is it so boring and terrible here? It was really difficult for Mike and I to listen to the phone calls. Their family, so far away from our reality wondering why in the world the kids don't have Easter Baskets overflowing with goodies. It is a reminder that life right now consists of little bubbles everywhere. My bubble on any day, even any hour is vastly different than your bubble. So, don't judge.
Still, our Easter morning was wonderful. We woke up claiming, "Christ has risen!" The kids were excited about the gift of Eternal Life, and happy that I made pancakes from scratch with the few remaining eggs we have. (I am rationing them because Daniel's birthday is this week and I'm not sure if I can get eggs again before a cake will need to be made). We ate the pancakes while Mike did his video call with believers in India and Kenya. Where they live, they aren't at all worried about Easter Baskets. The children are crying because they are hungry and they don't know where they are going to get food. Reality Check for us.
After Mike's calls, we all sat down on the couch and enjoyed a YouTube church service together. I love hearing my kids sing worship songs in my living room. Aside from video calls with their family members, this was the only screen time my boys had this week (Kasie is doing college courses online, so that's different). We have watched no movies or kids shows. They have played no video games. I am aware that this is an entirely different existence right now than most of the country, and my kids are aware of it, too. But they sure do appreciate the hour of church on Sundays, and they love when the Pastors face shows up on the screen. We've taken to watching Mike's friend, Pastor David Acton with New Hope Church in Cape Coral.
I found myself crying during the service several times, I don't know why. Just thankful for the Lord and His provision. We may be short items in our baskets, but our home in Heaven is secure.
After church, the kids played outside while I cleaned up around the house. The weekends are nice because I don't have to be a teacher for a few days. I am not called to be a teacher. God, please forgive me for not being as good as the teachers they have at school.
Our traditional Easter dinner was replaced by Hamburgers and roasted potatoes, again because Walmart canceled our order. Mom had dropped off some green beans, so we had those, too. We're saving the watermelon she left for Daniel's birthday. I get that there is food in the stores, but I am just not willing to go and risk exposing Kasie or ourselves. There's enough food. There's enough comfort. There's enough. And we have our health.
The one thing I wanted the boys to do yesterday was clean their rooms. I made it clear by telling them that there would be no hide and seek in the woods, no cards, no games, until their rooms were cleaned and checked. Of course, Jacob got right to it. Daniel put it off. At dinner time, he was a mess of tears and tantrums about his room and how he would be deprived of live-giving fun time if he wasn't permitted to play hide and seek.
That's when I lost it. I get it. It was Easter, and we celebrate a risen Savior. But Mom has had enough. I had seen enough of the hours of preparation and grocery ordering that yielded nothing. Enough of the endless cleaning and recleaning. Laundering, folding, organizing, teaching, stressing. And for what? For them to want to be in Missouri without me? I'd seen enough of the work and the worry and the studying and the going without. I'd heard enough complaining and crying.
I.
LOST.
IT.
For probably ten minutes, I went on a rampage about everything that was wrong in my house on Easter.
And probably everyone cried except Mike. He knew what was happening. The pressure had hit its breaking point. Like the pressure cooker someone gave me, the safety valve had popped out and steam had to escape from somewhere. It found its way out of the least reinforced place on my body. My big, flapping jaws.
I swore I was taking back birthday presents, ya'll. I'm not proud of that. And removing the mirrors because, they must be screens, too.
I'm not gonna lie. I went crazy. Because I had to. I mean, everyone has a limit, and I have reached mine with the bleach and the cooking and the curriculum and all of it. It's too much.
Everyone has their moments, and Mommy had to have hers.
Mike was calm and he took me outside for a walk on the KNT (Kasie Nature Trail) and within five minutes, I was back to normal, and feeling pretty ashamed of my behavior. The kids came around and apologized for their attitudes that contributed to my meltdown. Everyone hugged and we gathered at one of the hammocks for storytime while Daniel tried to finish cleaning his room (he never did finish, part two of the room cleaning saga continues today). I could hear peacocks calling across the street and somewhere, one of my neighbors has added a cow to their family. I heard the mooing as I walked across the yard.
Everything returned to normal and I realized that this is what I'm thankful for the most. That because of Christ, and His sacrifice for me, everything CAN return to normal. Sins can be forgiven, words can be washed over with love. Families can lose their cool and somehow move forward to love and live another day. Easter baskets can be left empty, because so was the tomb that held Jesus and somehow, we all make it through. Even hearts can be broken. We can lose loved ones to death or distance and everything in between.
But we know how the story ends. We know that it ends in perfect peace. And we know that since we believe, we will spend eternity together.
I just hope we're not under quarantine.